Neal Hirsig, Blender 3D Design Course, Tufts University
150 GREAT VIDEO TUTORIALS!!
****The content & files contained here have been republished in entirety, with permission, from the original website of Neal Hirsig at Tufts University. Because the original website had been slated for cancellation in May, 2017 all files, lessons, videos & course materials have been transfered to our servers & made available here. This course was originally developed between 2012 to 2013 & all materials are published under -Creative Commons, Attribution, Non Commercial, Share Alike License-
Please feel free to Link or Share from here. If you intend to republish this course please follow the original license guidelines and credit 'Neil Hirsig' as the author.
Email Neil Hirsig: nhirsig@tufts.edu

**NOTE:
the plain links in each LESSON, are old & broken. They say 'gryllus' in address bar when you try them. No Good! The
NEW LINKS
are above these, they have bullets
(**Lesson # Title**) & these are a zip of everything listed below. The PDF, .jpg, mp4, .blend, is ALL in the top link with the (**)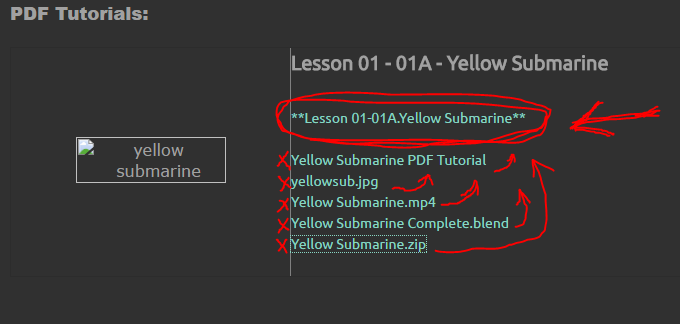 Neal Hirsig: nhirsig@tufts.edu Last Edit: 4/27/13